This year Aizkraukles Banka also provided great support to celebrating anniversary of proclamation of the Republic of Latvia. Events devoted to Latvia 91st anniversary, supported by AB.LV, took place in Russia, Belarus and Uzbekistan.
In Belarusian National Opera in Minsk, performance of Latvian brilliant soprano Sonora Vaice was presented in the celebratory concert. This year the Belarusian National Opera was renovated, and Sonora Vaice was the first foreign artist to perform on the newly opened stage.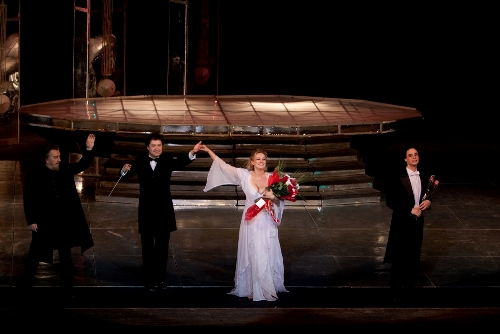 Whereas the embassy of the Republic of Latvia in the capital of Uzbekistan, Tashkent, with AB.LV support, organised a concert of famous Latvian countertenor Sergejs Jegers. At the concert, the audience was presented songs from the disk by Sergejs Jegers and saxophonist Artis Gāga "Duende", which includes both famous and less known classical music opuses performed by the duet of countertenor and saxophonist.
In Russia, the Latvian embassy in Moscow and consulate general in St. Petersburg organised official receptions in honour of the 91st anniversary of proclamation of the Republic of Latvia, visited by officials and businessmen from Russia and Latvia.