Phishing
Generally, phishing is sending a fake e-mail, pretending to be from the bank, in order to obtain confidential data of the user.
Phishing is very widespread in the world, and it also increases in Latvia.
Phishing is a very popular type of fraud, where fake letters (sometimes, calls) are used to obtain confidential information — user's ID, password, credit card details. This is not an attack on the Internetbank or other system — it is an attempt to get your personal data, known to you only.
Fraudsters create a site resembling that of the Internetbank and deceitfully make you provide your Internetbank user ID, password and authorization code at this site. After receiving your personal data, the fraudsters are able to perform transactions in your account.
Sample fake letter: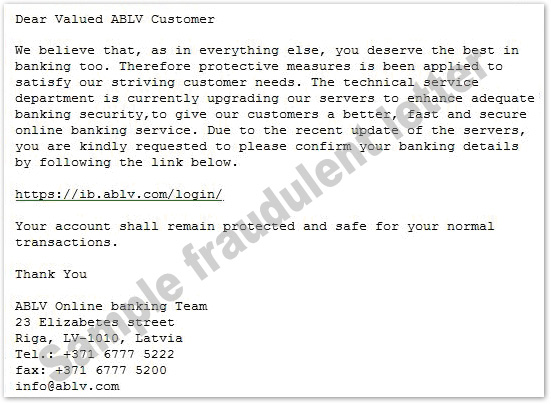 Our recommendations
Even if you believe the letter was sent by the bank (which is difficult to check without having special skills, since from field of an e-mail can be easily manipulated), never follow the link to the Internetbank provided in the e-mail.
Use the link to the bank's home page or direct link to the Internetbank stored in your browser. If there are no stored links, type https://ib.ablv.com/ in your browser address bar.
If you have any suspicions or doubts, contact the bank immediately, to make sure the e-mail is authentic. Remember the main rule for ensuring financial safety in the Internet: customer's details used in electronic services are never requested by the bank — neither via post, e-mail, by phone, nor in other way.
Under no circumstances may the following information be provided via e-mail or by phone:
Internetbank password;
authorization codes;
payment card PIN-code.