Terms of Using Payment Cards
Identification when using the card
Upon receipt of the card, please sign it in the designated place. If the card does not bear your signature, the cashier has the right to refuse it as payment. In certain circumstances you may be asked to present identity card. If you are unable to provide such a document, the cashier will not be authorised to serve you.
PIN-code
PIN-code is an additional security measure for your finances. You should be the only one who knows it.
Do not share your PIN-code with anyone.
Do not write it on the card or keep it with the card, so that if the card is lost or stolen it cannot be used fraudulently.
PIN-code is a key that grants access to your money. When entering your PIN-code, make sure that no one is watching you enter the secret numerical combination.
If PIN-code is lost, you will need to replace the card.
Learn your PIN-code by heart. If you enter an incorrect code more than two times in a row, the ATM may retain your card. If this happens, you will need to contact the bank to get your card back.
PIN-memo
Card users often find themselves in the situation of having difficulty remembering their PIN, especially if they have several cards. Our bank looks after your comfort and issues card users small, coloured cards – a PIN-memo, which will help you remember your PIN-code.
On the front of the PIN-memo there are cells in five rows, on which to record PIN-codes (for up to a maximum of five cards).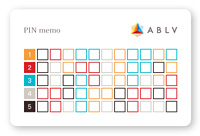 On the back of the PIN-memo there are the instructions explaining the principles of secure recording: for each PIN-code you choose four cells of one colour or another, in a sequence that you can remember, and the others you fill in at random with numbers from 0 to 9 (all numbers should be written in the same hand and ink, so that the PIN-code numbers don't stand out from the rest).
PIN-memo is an easy way to remember PIN-codes. Moreover, you can safely keep the PIN-memo card together with your cards, since if they are lost or stolen no one else will be able to find out your PIN-code.
Card use
The card's validity is indicated on the front; the card is active until the last day of the month shown, inclusive. For example, if the expiration date on the card says 09/14, this means that it will be valid until 30 September 2014.
After the card expires, it will be automatically extended. With payment cards you can make purchases or use services over the Internet or phone, e.g., make reservations for hotel rooms, airline tickets, and car rental. You will need to give the vendor your credit card number, validity period, and cardholder's name.
Please note that the vendor has the right to reserve an amount that is 20—40% higher than the actual planned amount, in order to provide for compensation of possible additional expenses (for example, use of the mini-bar in a hotel or car mechanical damage during its use). Therefore, we recommend you to keep the receipts from hotels and car rentals and make sure that these service providers only charge you the actual, agreed-upon price.
Do not forget to familiarize yourself with all the conditions of agreement on car rental and the rules for booking a hotel room, since not following them could result in additional money being withheld from your account (for example, for breaking traffic rules, returning a car without a full tank of gas, late cancellation of a hotel reservation, or date change).
When paying by card in a restaurant, you should pay attention to three columns on the check: the cost as compared to the restaurant's price list, Tips or Extras – you need to write in the amount or put a dash, and in the Total column you must write the total amount in yourself, adding in the tips.
The choice of transaction currency at the merchant's
We recommend choosing the national currency of corresponding country for transactions. It will allow you to avoid a withdrawal of an unplanned bigger amount from your card account.
A merchant may offer you to choose the transaction currency, but he has no right to impose any decision regarding the transaction currency in favour of the national or any other currency. The decision is always made by a client — the cardholder. Before the transaction, learn about the currency exchange rate offered at the merchant's.
If you choose to pay in the currency different from the national one; upon the completion of your transaction, compare the currency exchange rate on the check with the offered one before.
Card account statement
Once a month, the bank prepares a card account statement. The statement can be received via e-mail or to the Internetbank mailbox. When you receive the statement, pay special attention to the fields stating the amount and date of the minimum payment, as well as other information significant for the holder of the card account.
Cash withdrawal limit
We have set a 24-hours cash withdrawal limit for all cards. The amount of the limit is specified in the list of payment card fees in Fees, Charges and Documents section.
The limit is set in the currency of the card account, which means card users may withdraw funds at ATMs not exceeding the amount set in the currency of the card account or an equivalent thereof in any other currency.
The cash withdrawal limit improves the safety of funds on payment cards. You can increase your cash withdrawal limit. For additional information, please contact your private banker.
General security measures using payment cards
To ensure safety of your card account funds, please follow the rules listed below.
Do not give your card to other persons. The card may be used by cardholder only.
Keep the card in a safe place, where no one else can access it or information related to it (number, validity period, PIN-code, etc.).
In case due to some suspicious situation you suppose that your PIN-code or other personal information possibly was disclosed and became known to strangers, contact the bank for blocking and replacing the card.
Try to ensure that your card details (card number, validity period, last three digits in the signature panel) are not sent via open communication channels, especially via e-mail, since they might be captured by fraudsters. In case providing data is necessary for making a payment (performing hotel or travel reservation by phone, fax, or via the Internet), try to use services of companies having impeccable reputation and also use possibly safest way of submitting the data (e.g. Internet sites with modern data security methods used). Remember that PIN-code does not belong to the card details that are required for performing remote transactions, that is why providing your PIN-code to anyone should be absolutely excluded, whatever is the pretext of requesting it.
There is a type of fraud called 'phishing', when fraudsters posing as financial institutions, Internet shops, or other companies send out e-mails with links to sites that imitate those of real companies and ask the user for confidential information (passwords, card details, PIN-code), seemingly to update the company's customer data base. Under no circumstances should you answer such messages, since as a result the information could be used for fraudulent purposes.
Request all card transactions to be performed in your presence only. Try not to allow the card to disappear from your field of view, even if it is necessary for making the payment. Remember that using special devices your card information can be copied and later used for producing a fake card. In case you suspect this has occurred, block the card and contact the bank for replacing it.
Before signing the receipt, make sure the transaction amount and currency are specified correctly.
Do not sign a receipt with blank transaction amount field.
Do not accept advice or help of others when using your payment card. Following this rule is especially important when using ATMs.
Once a month, check your card account transactions for the month. If you notice that your card account has been used to pay for purchases that you did not make, contact the bank immediately in order to block the card until all facts are made clear.
Keep all documents confirming transactions (copies of receipts) at least until you check the list of card account transactions.
Don't keep your card close to sources of strong magnetic fields (radio, mobile phones, computer monitors, video equipment, microwave ovens, etc.), and be careful in shops which use magnetic scanning devices. All of these can harm the card magnetic strip.
Set a 24-hour limit on purchases that matches the amount you spend daily using your card. Thus you increase safety of your payment card funds and protect yourself from substantial losses.
Unless it is necessary, do not change the bank standard limit on cash withdrawal from ATMs. For ensuring safety of your funds, you can set reduced 24-hour limit on cash withdrawal from ATMs that best matches the amount of cash you need daily.
Subscribe to SMS/ e-mail notification service. This service enables you to discover unauthorized card transactions in case of fraud, so that you can timely block the card calling our Client Line at +371 6777 5555 (round-the-clock).
Address storing the card as carefully as storing cash.
Security measures using cards in ATMs
Try not to change the ATMs you use, use those you already know.
When you approach an ATM, look around. If you notice persons looking suspicious, use another ATM.
Before using the ATM, examine its external appearance. If you notice some extraneous devices, units, wires, or traces of structural changes, use another ATM.
Do not apply physical force to insert the card in ATM.
If there are people in queue behind you, make sure that no one can see your PIN-code.
When entering the PIN-code, stand possibly closer to the ATM; enter the PIN-code with your middle finger (thus your palm is opened, preventing malicious persons from seeing the buttons you press); if possible, hide the keypad with your other palm. Enter the PIN-code only after it is requested by ATM.
Be especially cautious if some stranger offers you help when using the ATM, even if your card is stuck or there are other problems while performing a transaction. Do not enter the PIN-code when "helper" can see it; do not allow to distract your attention, since meanwhile the fraudsters might take your card or cash from the ATM. If such situation occurs, contact the bank immediately in order to block the card until all facts are made clear.
If you suppose the ATM does not function correctly, press the "cancel" button, retrieve your card and use another ATM. If problems occur after you requested the withdrawal of necessary amount, do not go away before you make sure the transaction is completed, withdrawal is cancelled, or prompt for a new transaction appears on the ATM screen.
If your card has been retained by ATM, make sure it has been actually captured and the transaction you were performing has been completed (the ATM continues to service other customers or is ready for performing another transaction). Otherwise, after you go away, the ATM might return the card or dispense the cash you requested for withdrawal, and they can be collected by third persons.
After cash was dispensed, leave the ATM only after you have put both cash and the card in your wallet, purse, or bag, etc.
Learn your PIN-code by heart or use PIN-memo card. If you record your PIN-code in the clear, there will be possibility that someone else can discover it. Remember that responsibility for transactions made using PIN-code always resides with the customer.
Be careful when entering the PIN-code. If you enter incorrect PIN-code more than twice, your card will be retained by ATM.
Always keep all receipts printed by ATM.
Unless it is necessary, do not change the bank standard limit on cash withdrawal from ATMs. For ensuring safety of your funds, you can set reduced 24-hour limit on cash withdrawal from ATMs that best matches the amount of cash you need daily.
Subscribe to SMS/ e-mail notification service. This service enables you to discover unauthorized card transactions in case of fraud, so that you can timely block the card calling our Client Line at +371 6777 5555 (round-the-clock).
Security measures using cards in the Internet
Do not answer e-mails, which as if in the name of the bank ask you for providing personal information. Contact the bank using the phone number you know to be a true one in order to find out whether the letter was actually sent by bank.
Never follow the links contained in such letters (even to the bank homepage), since they might actually be the links to fraudulent sites.
Never disclose your card PIN-code in the Internet resources.
Use services of well-known and proven merchants only.
Before using the card in the Internet, make sure you have the possibility to contact the merchant in case of disputable issue or questions. Make sure the addresses (telephone numbers) provided at the Internet site are correct.
Check the addresses of the Internet sites you connect to, since fraudsters might use the names resembling homepage addresses of actually existing companies in order to direct you to fake site.
Avoid using services of the Internet resources with doubtful content; they are often created with the purpose of receiving information on bank cards and further illegal use of it.
If you have some suspicion while visiting the Internet site, or you do not want to provide your card details or personal data, leave the page, report your suspicions to the bank, use other means for purchase.
Control your e-mail, do not open e-mails from unknown senders, and do not provide your personal data. In case it is necessary to send your personal data to trusted recipient, use means of cryptographic protection, since ordinary mails might be captured and used to inflict harm upon you.
Install antivirus software on your computer and perform regular updates of it as well as updates of other software products you use (operating system and applications) – this will protect you against viruses and other malicious software.
Install firewall on your computer in order to prevent unauthorized access to it.
For making purchases, use only your own computer; do not use for it Internet cafes or other available means, where spyware might be installed in order to capture the private data you enter.
Choose non-trivial passwords that are not related to your date of birth or other personal data. If possible, use alphanumeric passwords. Do not record your passwords or disclose them to anyone. If you are afraid of forgetting the password, invent your own system of recording it (e.g. record it as a telephone number or address in your address book).
Subscribe to SMS/ e-mail notification service. This service enables you to discover unauthorized card transactions in case of fraud, so that you can timely block the card calling our Client Line at +371 6777 5555 (round-the-clock).
Contested transactions
If transactions have been charged to your card account that you did not make, or if an incorrect amount has been charged, you have the right to contest the transaction by making a written claim to us.
The claim must be submitted on a standard bank form no later than 30 days after receipt of the card account statement or, if you did not order a statement, then 60 days from when the bank made the transaction from your card account. Claim forms are available from your private banker.
The bank will inform you of the progress of the claim investigation within 30 days of having received your notice and all information concerning the transaction.
The instances when payment card should be blocked
If your card has been lost or stolen, or someone else has discovered your PIN-code, or you suspect fraudulent use of your card (e.g. you have received an SMS-report of a transaction you did not perform), you need to block the card as quickly as possible. You can do this by calling our Client Line at +371 6777 5555 (round-the clock).
Outside of Latvia, you can report the loss or theft of a card to the nearest police station or bank which handles that system of card.
Within seven working days of having given verbal notification, you are required to provide ABLV Bank with written notice about the card loss. You should remember that responsibility for transactions made with a lost card lies with the cardholder, so it is in your interests to block a lost card as quickly as possible.
Write down the Client Line telephone number provided above so that you can block the card quickly if necessary. In case of a stolen or lost card, inform the bank immediately.
Additional means of security for use of cards in particular countries
In order to minimize risks of fraudulent transactions, we have established restrictions on use of payment cards in the following countries: Argentina, Aruba, Australia, Bangladesh, Bolivia, Brazil, Cambodia, Chile, China, Colombia, Costa Rica, Cuba, Dominican, Ecuador, Egypt, Fiji, Guatemala, Haiti, Honduras, Hong Kong, India, Indonesia, Jamaica, Japan, Kenya, Laos, Lebanon, Malaysia, Mexico, Morocco, Nepal, North Korea, Pakistan, Panama, Paraguay, Peru, Philippines, Singapore, Sri-Lanka, Syria, Taiwan, Tanzania, Thailand, Trinidad and Tobago, Tunis, South Africa, South Korea, USA, Venezuela, Vietnam.
To ensure uninterrupted functioning of your payment card, please inform your private banker or bank manager prior to traveling to any of previously mentioned countries.